You are viewing the article George Michael's "Freedom '90": The Cultural Impact of the Song and Music Video  at daotaomt.edu.vn you can quickly access the necessary information in the table of contents of the article below.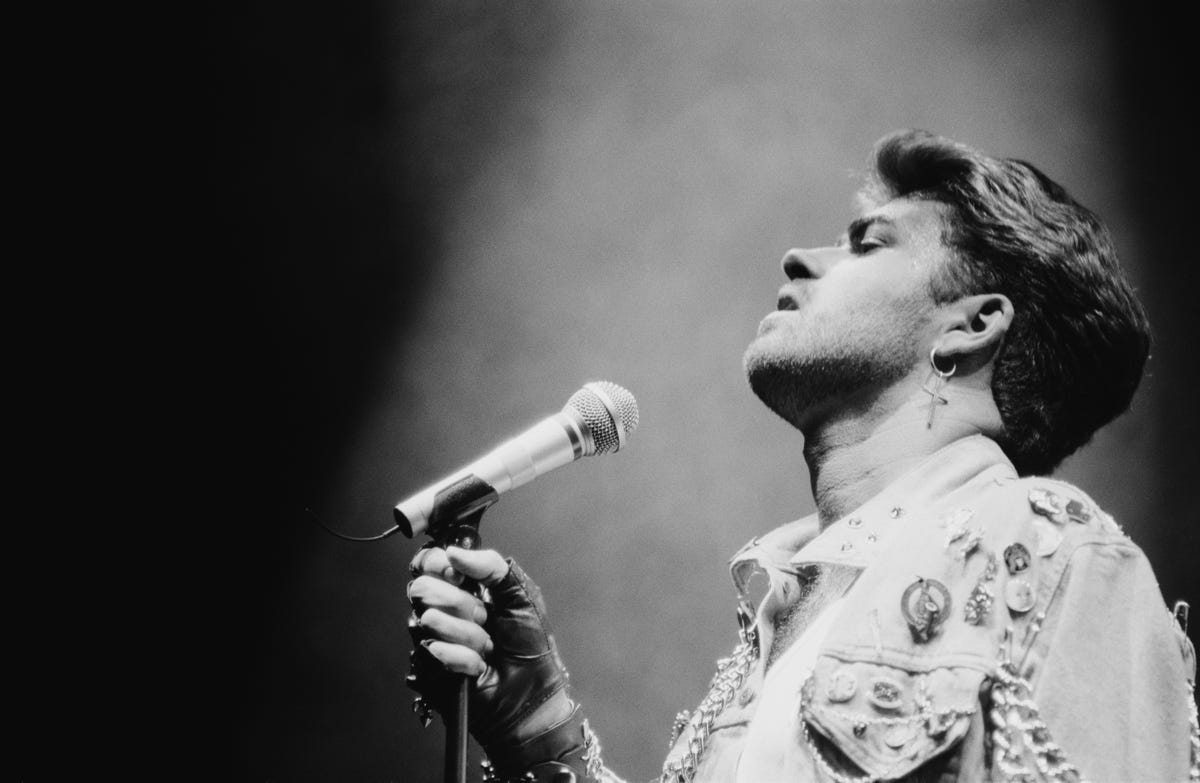 George Michael's "Freedom! '90" has had a lasting cultural impact. The catchy song addressed his struggles with identity, artistic growth and stardom in a meaningful way. And because Michael refused to appear on-camera, the song ended up with an iconic music video that brought the worlds of fashion and entertainment together.
Michael didn't want to appear in the video, so he enlisted the world's most popular supermodels
Michael didn't want his image used to promote his 1990 album Listen Without Prejudice Vol. 1, but his record label still wanted music videos for MTV. After spotting the January 1990 cover of British Vogue, which featured five of the era's top models — Christy Turlington, Cindy Crawford, Naomi Campbell, Linda Evangelista, and Tatjana Patitz — Michael had an inspired solution to this dilemma: instead of him appearing in front of the camera, these supermodels could be in a music video for the song "Freedom! '90."
Some wrangling was required — the women were heavily booked, and their fees weren't cheap — but all five eventually agreed to appear in the video. And though models being in a music video wasn't a new phenomenon, in the past women had usually been cast in a "girlfriend" role. Here, instead of being appendages, the models were the focus of the video. They, along with lesser-known male models John Pearson and Mario Sorrenti, were the ones lip-syncing lyrics such as "All we have to see is that I don't belong to you, and you don't belong to me."
Whether bathing, dancing or gazing into the camera, the models all brought the star qualities they'd exhibited on the catwalk to Michael's song, which helped the video become a hit. And because they'd appeared in the "Freedom! '90" video, many people who'd never paid much attention to fashion became aware of the world of supermodels. As Evangelista said in a 2013 interview, "We did hit another audience there. No matter where I went in the world, they knew me from the George Michael video and not from my campaigns."
"Freedom! '90!" was a big break for many of the crew members
The behind-the-scenes team for the "Freedom! '90" video was just as impressive as the onscreen talent. Some were already on their way to the top, while others received a big break with the video. But wherever they were in their careers, the video gave them an opportunity to showcase their abilities.
David Fincher, who'd directed many other music videos before "Freedom! '90," was already on his way to Hollywood with Alien 3. He'd go on to helm films such as Seven, Fight Club and Gone Girl. Stylist Camilla Nickerson (who became a contributing editor at Vogue), used many of her own clothes for the shoot, as most of the budget had been used to acquire the linen sheet wrapped around Turlington. Guido Palau is now an acclaimed hairstylist, but "Freedom! '90" was a big opportunity for him. He later said, "I hadn't done a video before, and to be honest, there would have been bigger and better hairdressers at the time, so it was a lucky break for me."
Versace used "Freedom '90" to close his Fall 1991 show, a now-iconic moment in fashion
The world of fashion made its mark on the "Freedom! '90" video, and in turn the song and video would affect the fashion industry. Versace's Fall 1991 show ended with four of the models from the video — Campbell, Evangelista, Crawford, and Turlington — walking down the runway, hand-in-hand, as they once more mouthed the words to Michael's song. Designer Gianni Versace had harnessed the power of "Freedom! '90" to create an unforgettable runway moment.
In addition to garnering attention for his label with this "Freedom! '90" show, Versace solidified the importance and status of supermodels by bringing these four together — a moment that took place thanks in part to Michael and his music. "If I had to label my supermodel moment, I would say it was that Versace show when Naomi, Linda, Christy, and I all came out together," Crawford said to V Magazine in 2013. "We had just done the George Michael video for 'Freedom,' and George was in the front row, and we came out skipping and holding hands. It felt like the stars had aligned."
"Freedom! '90" remains a touchstone in the world of fashion. In 2016, Vogue paid homage to the video by recording a newer generation of models lip-syncing along to Michael's song in New York City. And in September 2017 at Versace's Spring 2018 show, Campbell and Crawford, along with Helena Christensen, Carla Bruni-Sarkozy, and Claudia Schiffer, closed the show by walking the runway together as "Freedom! '90" played.
The music video symbolized artistic growth for Michael
The "Freedom! '90" video destroyed symbols of Michael's earlier career, like a jukebox and leather jacket connected to the video for his song "Faith" (the jacket burned along to the lyrics "sometimes the clothes do not make the man"). And by titling the song "Freedom! '90" Michael referenced one of his Wham! songs, also called "Freedom." However, he seemed to be asking his audience to forget about the earlier tune and pay attention to the updated one.
Michael was also no longer interested in stardom. He told the Los Angeles Times, "Everybody wants to be a star. I certainly did, and I worked hard to get it. But I was miserable, and I don't want to feel that way again." He'd used "Freedom! '90" to stand up for himself and his needs as an artist.
By doing so, Michael set an example for others in the music industry. Talking about Michael's refusal to be in the "Freedom! '90" video, Elton John once said, "It changed the whole face of how videos were done: The video said everything. It was genius. And it was a revolutionary thing."
"Freedom! '90!" became an LGBTQ anthem
Michael may have crafted "Freedom! '90" to address his struggles with fame and artistic integrity, but listeners bring their own knowledge to a song. Given that Michael publicly came out as gay in 1998, lyrics like "There's something deep inside of me / there's someone else I've got to be" have been heard as references to his sexuality.
"In terms of my work, I've never been reticent in terms of defining my sexuality. I write about my life," he told CNN in 1998.
Whatever Michael's original intentions, "Freedom! '90" has therefore been transformed for some into a coming-out song. Though the homophobia, which was tied up with a fear of AIDS and HIV, that Michael faced as a young man is no longer the same, prejudice still exists. This means that having an anthem about the search for your own identity continues to resonate within the LGBTQ community.
Thank you for reading this post George Michael's "Freedom '90": The Cultural Impact of the Song and Music Video at daotaomt.edu.vn You can comment, see more related articles below and hope to help you with interesting information.
Related Search: