You are viewing the article Barack Obama  at daotaomt.edu.vn you can quickly access the necessary information in the table of contents of the article below.
Barack Obama is a name that resonates with the world as the 44th President of the United States, serving from 2009 to 2017. Born as Barack Hussein Obama II on August 4, 1961, in Honolulu, Hawaii, Obama's journey to becoming one of the most influential figures in recent history is nothing short of remarkable. With his charismatic personality, visionary leadership, and enduring commitment to change, Obama captivated hearts and minds not only in the United States but across the globe. This introduction will explore the life, accomplishments, and legacy of Barack Obama, shedding light on the man who broke barriers, shattered expectations, and left an indelible mark on the world stage.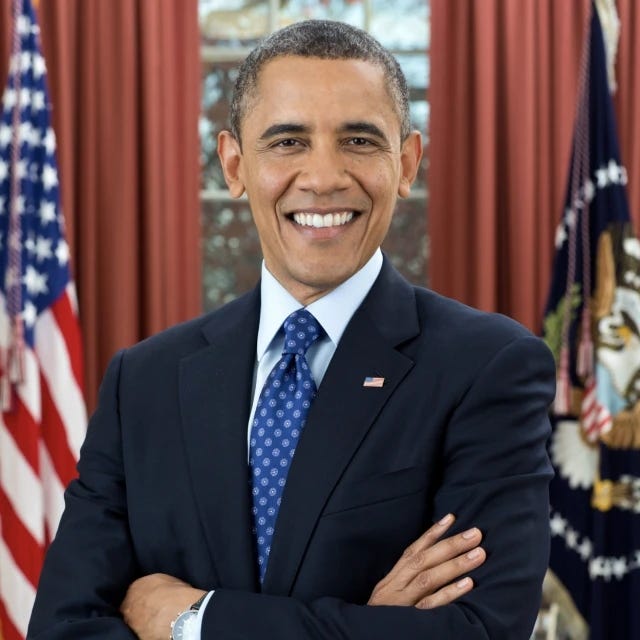 1961-present
Who Is Barack Obama?
Barack Obama was the 44th president of the United States and the first Black commander-in-chief. He served two terms, from 2009 until 2017. The son of parents from Kenya and Kansas, Obama was born and raised in Hawaii. He graduated from Columbia University and Harvard Law School, where he was president of the Harvard Law Review. After serving on the Illinois State Senate, he was elected a U.S. senator representing Illinois in 2004. In 2009, Obama was awarded the Nobel Peace Prize. He and his wife, Michelle Obama, have two daughters, Malia and Sasha.
Quick Facts
FULL NAME: Barack Hussein Obama II
BORN: August 4, 1961
BIRTHPLACE: Honolulu, Hawaii
SPOUSE: Michelle Obama (1992-present)
CHILDREN: Malia and Sasha
ASTROLOGICAL SIGN: Leo
Early Life and Family
Barack Hussein Obama II was born on August 4, 1961, in Honolulu to Barack Obama Sr. and Ann Dunham. He has six half-siblings, including half-sister Maya Soetoro-Ng who he grew up with.
Obama's Parents
Obama's father, Barack Obama Sr., was born of Luo ethnicity in Nyanza Province, Kenya. Obama Sr. grew up herding goats in Africa and eventually earned a scholarship that allowed him to leave Kenya and pursue his dreams of going to college in Hawaii.
Obama's mother, Ann Dunham, was born on an Army base in Wichita, Kansas, during World War II. After the Japanese attack on Pearl Harbor, Dunham's father, Stanley, enlisted in the military and marched across Europe in General George Patton's army. Dunham's mother, Madelyn, went to work on a bomber assembly line. After the war, the couple studied on the G.I. Bill, bought a house through the Federal Housing Program, and after several moves, ended up in Hawaii.
While studying at the University of Hawaii at Manoa, Obama Sr. met fellow student Ann Dunham. They married on February 2, 1961, and Barack II was born six months later. As a child, Obama did not have a relationship with his father. When his son was still an infant, Obama Sr. relocated to Massachusetts to attend Harvard University and pursue a doctorate degree. Obama's parents officially separated several months later and ultimately divorced in March 1964, when their son was 2. Soon after, Obama Sr. returned to Kenya.
In 1965, Dunham married Lolo Soetoro, a University of Hawaii student from Indonesia. A year later, the family moved to Jakarta, Indonesia, where Obama's half-sister Maya Soetoro-Ng was born in 1970. Several incidents in Indonesia left Dunham afraid for her son's safety and education, so at the age of 10, Obama was sent back to Hawaii to live with his maternal grandparents. His mother and half-sister later joined them.
Obama struggled with the absence of his father, whom he saw only once more after his parents divorced when Obama Sr. visited Hawaii for a short time in 1971. "[My father] had left paradise, and nothing that my mother or grandparents told me could obviate that single, unassailable fact," he later reflected. "They couldn't describe what it might have been like had he stayed."
Life in Hawaii

While living with his grandparents, Obama enrolled in the esteemed Punahou School. He excelled in basketball and graduated with academic honors in 1979. As one of only three Black students at the school, he became conscious of racism and what it meant to be African American.
Obama later described how he struggled to reconcile social perceptions of his multiracial heritage with his own sense of self: "I noticed that there was nobody like me in the Sears, Roebuck Christmas catalog… and that Santa was a white man," he wrote. "I went into the bathroom and stood in front of the mirror with all my senses and limbs seemingly intact, looking as I had always looked, and wondered if something was wrong with me."
Obama's Half-Siblings
Obama's family includes six half-siblings located around the world. He shares a mother with half-sister Maya Soetoro-Ng and has five paternal half-siblings.
According to Oprah Daily, he has maintained a warm and close relationship with half-sister Maya Soetoro-Ng. The two grew up together and both graduated from the Punahou School. "He took his job as big brother seriously," she said of Obama. "Our mother divorced my father, and our grandfather died. So he really ended up being the man of the house." Soetoro-Ng campaigned for Obama in both the 2008 and 2012 elections, and the two have shared family vacations in Indonesia and Christmases in Hawaii.
Obama's oldest paternal half-sibling, Malik Obama, was born in Nairobi, Kenya, in 1958, and the two didn't meet until 1985. Malik told the Associated Press in 2004 he served as the best man at Barack's wedding and vice versa. However, Malik notably criticized Obama's presidency in 2016 and announced his support for Republican candidate Donald Trump in that year's election. He attended the third presidential debate as Trump's guest.
Barack's other half-siblings include:
Half-sister Auma Obama, born 1960 in Nairobi. She and Barack met for the first time when they were in their 20s in Chicago.
Half-brother Mark Okoth Obama Ndesandjo, born in Nairobi in 1965. He and Barack have met several times following their 1988 introduction in Kenya.
Half-brother David Ndesandjo, born in 1967. Although it's not clear when, he died in a motorcycle accident, according to Politico.
Half-brother George Hussein Onyango Obama, born in 1982 in Kenya. Barack has only spoken to his youngest half-brother a few times.
Education
Obama entered Occidental College in Los Angeles in 1979. After two years, he transferred to Columbia University in New York City, graduating in 1983 with a degree in political science.
After his undergrad studies, Obama worked in the business sector for two years. He moved to Chicago in 1985, where he worked on the impoverished South Side as a community organizer for low-income residents in the Roseland and the Altgeld Gardens communities.
It was during this time that Obama, who said he "was not raised in a religious household," joined the Trinity United Church of Christ. He also visited relatives in Kenya and paid an emotional visit to the graves of his biological father, who died in a car accident in November 1982, and his paternal grandfather.
"For a long time, I sat between the two graves and wept," Obama wrote. "I saw that my life in America—the Black life, the white life, the sense of abandonment I'd felt as a boy, the frustration and hope I'd witnessed in Chicago—all of it was connected with this small plot of earth an ocean away."
Returning from Kenya with a sense of renewal, Obama entered Harvard Law School in 1988. The next year, he met with constitutional law professor Laurence Tribe. Their discussion so impressed Tribe that when Obama asked to join his team as a research assistant, the professor agreed. In February 1990, Obama was elected the first Black president of the Harvard Law Review. He graduated magna cum laude with his juris doctor from Harvard Law School in 1991.
Marriage to Michelle Obama and Daughters
In 1989, while still in law school, Obama joined the Chicago law firm of Sidley Austin as a summer associate. There, he met Michelle Robinson, a young lawyer who was assigned to be his adviser. Initially, Michelle refused to date Barack, believing that their work relationship would make the romance improper. However, she relented not long after, and the couple fell in love.
On October 3, 1992, he and Michelle were married. They moved to Kenwood, on Chicago's South Side. Barack and Michelle welcomed two daughters several years later: Malia, born in 1998, and Sasha, born in 2001. The couple has stated that their personal priority is their children. The Obamas tried to make their daughters' world as "normal" as possible while living in the White House, with set times for studying, going to bed and getting up.
Illinois Political Career
After law school, Obama returned to Chicago to practice as a civil rights lawyer with the firm of Miner, Barnhill & Galland. He also taught constitutional law part-time at the University of Chicago Law School between 1992 and 2004—first as a lecturer and then as a professor—and helped organize voter registration drives during Bill Clinton's 1992 presidential campaign.
Obama's advocacy work led him to run for and win a seat in the Illinois State Senate as a Democrat in 1996. During his years as a state senator, Obama worked with both Democrats and Republicans to draft legislation on ethics, as well as expand health care services and early childhood education programs for the poor. He also created a state earned-income tax credit for the working poor. As chairman of the Illinois Senate's Health and Human Services Committee, Obama worked with law enforcement officials to require the videotaping of interrogations and confessions in all capital cases after a number of death-row inmates were found to be innocent.
In 2000, Obama made an unsuccessful Democratic primary run for the U.S. House of Representatives seat held by four-term incumbent candidate Bobby Rush. Undeterred, he created a campaign committee in 2002 and began raising funds to run for a seat in the U.S. Senate in 2004. With the help of political consultant David Axelrod, Obama began assessing his prospects for a Senate win.
Illinois Senator
Encouraged by poll numbers, Obama decided to run for the open U.S. Senate seat, vacated by Republican Peter Fitzgerald. In the 2004 Democratic primary, he defeated multimillionaire businessman Blair Hull and Illinois Comptroller Daniel Hynes with 52 percent of the vote.
That summer, he was invited to deliver the keynote speech in support of John Kerry at the 2004 Democratic National Convention in Boston. Obama emphasized the importance of unity and made veiled jabs at the George W. Bush administration and the diversionary use of wedge issues.
After the convention, Obama returned to his U.S. Senate bid in Illinois. His opponent in the general election was supposed to be Republican primary winner Jack Ryan, a wealthy former investment banker. However, Ryan withdrew from the race in June 2004 following public disclosure of unsubstantiated sexual deviancy allegations by his ex-wife, actor Jeri Ryan. That August, diplomat and former presidential candidate Alan Keyes accepted the Republican nomination to replace Ryan.
In the November 2004 general election, Obama received 70 percent of the vote to Keyes' 27 percent, the largest electoral victory in Illinois history. With his win, Obama became only the third African American elected to the U.S. Senate since Reconstruction.
Sworn into office on January 3, 2005, Obama partnered with Republican Senator Richard Lugar of Indiana on a bill that expanded efforts to destroy weapons of mass destruction in Eastern Europe and Russia. Then, with Republican Senator Tom Coburn of Oklahoma, he created a website to track all federal spending. Obama also spoke out for victims of Hurricane Katrina, pushed for alternative energy development, and championed improved veterans' benefits.
2008 Presidential Election and Inauguration
In February 2007, Obama made headlines when he announced his candidacy for the 2008 Democratic presidential nomination. He was locked in a tight battle with then-U.S. senator from New York Hillary Rodham Clinton. On June 3, 2008, Obama became the Democratic Party's presumptive nominee after winning a sufficient number of pledged delegates during the primaries.
He campaigned on an ambitious agenda of financial reform, alternative energy, and reinventing education and health care—all while bringing down the national debt. Because these issues were intertwined with the economic well-being of the nation, he believed all would have to be undertaken simultaneously.
On November 4, 2008, Obama defeated Republican presidential nominee John McCain, 52.9 percent to 45.7 percent, in the popular vote and won election as the 44th president of the United States. A historic victory, Obama would soon be the first Black president in the nation's history.
Obama's inauguration took place on January 20, 2009. When he took office at age 47, Obama inherited a global economic recession, two ongoing foreign wars in Iraq and Afghanistan, and the lowest-ever international favorability rating for the United States. During his inauguration speech, Obama summarized the situation by saying, "Today I say to you that the challenges we face are real. They are serious, and they are many. They will not be met easily or in a short span of time. But know this, America: They will be met."
First Term as U.S. President
First 100 Days and Nobel Peace Prize
Obama coaxed Congress to expand health care insurance for children and provide legal protection for women seeking equal pay. A $787 billion stimulus bill was passed to promote short-term economic growth in the face of the Great Recession. Housing and credit markets were put on life support, with a market-based plan to buy U.S. banks' toxic assets. The government made loans to the auto industry, and new regulations were proposed for Wall Street.
Obama cut taxes for working families, small businesses, and first-time home buyers. The president also loosened the ban on embryonic stem cell research and moved ahead with a $3.5 trillion budget plan.
Obama undertook a complete overhaul of America's foreign policy. He reached out to improve relations with Europe, China, and Russia and to open dialogue with Iran, Venezuela, and Cuba. He lobbied allies to support a global economic stimulus package. He committed an additional 21,000 troops to Afghanistan and set an August 2010 date for withdrawal of nearly all U.S. troops from Iraq. (Obama was an early opponent of President George W. Bush's push to invade Iraq as part of the "war on terror" initiative, saying at an October 2002 rally: "I am not opposed to all wars. I'm opposed to dumb wars.")
In more dramatic incidents, Obama ordered an attack on pirates off the coast of Somalia and prepared the nation for a swine flu outbreak. He signed an executive order banning excessive interrogation techniques and ordered the closing of the military detention facility at Guantanamo Bay in Cuba within a year—a deadline that ultimately would not be met.
In recognition of his administration's early work, the Nobel Committee in Norway awarded Obama the 2009 Nobel Peace Prize.
Affordable Care Act
Obama signed his signature health care reform plan, the Affordable Care Act, into law in March 2010. The new law prohibited the denial of coverage based on preexisting conditions, allowed citizens under 26 years old to be insured under parental plans, provided for free health screenings for certain citizens, and expanded insurance coverage and access to medical care to millions of Americans.
Casually known as "Obamacare," the hallmark legislation faced strong opposition from Congressional Republicans and the populist Tea Party movement even after its passage. In October 2013, a dispute over the federal budget and Republican desires to defund or derail the Affordable Care Act caused a 16-day shutdown of the federal government.
The rollout of the reforms were initially bumpy. October 2013 saw the failed launch of HealthCare.gov, the website meant to allow people to find and purchase health insurance. Extra technical support was brought in to work on the troubled website, which was plagued with glitches for weeks. The health care law was also blamed for some Americans losing their existing insurance policies, despite repeated assurances from Obama that such cancellations would not occur.
The legislation has faced numerous challenges in court and wound up at the U.S. Supreme Court three times. In June 2012, the Supreme Court upheld the Affordable Care Act's individual mandate, which required citizens to purchase health insurance or pay a tax. In a 5-4 decision, the court said that the health care law's signature provision fell within the taxation power granted to Congress under the Constitution.
In the summer of 2015, the Supreme Court upheld part of the Act regarding health care tax subsidies. Without these tax credits, buying medical insurance might have become too costly for millions of people.
The latest Supreme Court decision about the Affordable Care Act began in 2017 when Congressional Republicans dropped the individual mandate tax penalty to zero. Texas and 17 other Republican states quickly sued to strike down the Affordable Care Act, mainly based on their opposition to its individual mandate. A Texas federal judge ruled in favor of the suit, saying that because there was no longer a tax, the law was unconstitutional.
The case was sent to an appeals court. A final ruling came in June 2021 when the U.S. Supreme Court voted, 7-2, to uphold the Affordable Care Act on the grounds that the objecting states were not required to pay anything under the mandate provision and thus had no standing to bring the challenge to court. As of January 2023, nearly 15.9 million Americans were insured through the Affordable Care Act Marketplace.
Killing Osama bin Laden
On April 29, 2011, Obama approved a covert operation in Pakistan to track down infamous al-Qaeda leader Osama bin Laden, the mastermind behind the 9/11 attacks who had been in hiding for nearly 10 years. On May 2, an elite team of U.S. Navy SEALs raided a compound in Abbottabad, Pakistan, and, within 40 minutes, killed bin Laden in a firefight. There were no American casualties, and the team was able to collect invaluable intelligence about the workings of al-Qaeda.
The same day, Obama announced bin Laden's death on national television. "The death of bin Laden marks the most significant achievement to date in our nation's effort to defeat al-Qaeda," Obama said. "As we do, we must also reaffirm that the United States is not—and never will be—at war with Islam."
Repealing Don't Ask, Don't Tell
In 2011, Obama signed a repeal of the military policy known as "Don't Ask, Don't Tell," which prevented openly gay troops from serving in the U.S. Armed Forces. He became the first president to voice support for same-sex marriage in May 2012.
Second Term as U.S. President
2012 Reelection and Second Term Priorities
As he did in 2008, during his campaign for a second presidential term, Obama focused on grassroots initiatives. Celebrities such as Anna Wintour and Sarah Jessica Parker aided the president's campaign by hosting fundraising events.
In the 2012 general election, Obama and Vice President Joe Biden faced Republican opponent Mitt Romney and his vice-presidential running mate, U.S. Representative Paul Ryan. On November 6, 2012, Obama won a second term as president, capturing more than 60 percent of the Electoral College.
Obama officially began his second term on January 21, 2013, when U.S. Chief Justice John Roberts administered the oath of office. In his second inaugural address, Obama called the nation to action on such issues as climate change, health care, the federal deficit, and marriage equality. Although he made progress on some of these fronts, he also faced waning public support—his approval rating hit a low of 38 percent in September 2014, according to a Gallup poll—and a divided government, when Republicans controlled both houses of Congress for the final two years of Obama's administration.
NSA Wiretapping Controversy

In June 2013, after Edward Snowden shared confidential government documents with journalists, the news broke that the National Security Agency's surveillance program was much broader than American citizens knew. Obama defended the NSA's email monitoring and telephone wiretapping during a visit to Germany that month. "We are not rifling through the emails of German citizens or American citizens or French citizens or anyone else," he said. Obama stated that the program had helped stop roughly 50 threats.
However, the president suffered a significant drop in his approval ratings, to 45 percent, partially due to the revelations. In October 2013, German Chancellor Angela Merkel revealed that the NSA had been listening in to her cell phone calls. "Spying among friends is never acceptable," Merkel told a summit of European leaders.
ISIS Airstrikes
In late summer 2013, Obama was unsuccessful in his attempts to persuade Congress, and the international community at large, to take military action against Syrian leader Bashar al-Assad, who had used chemical weapons against his country's civilians. But there was interest in combatting the self-proclaimed Islamic State, also known as ISIS or ISIL, which had seized large portions of Iraq and Syria and conducted high-profile beheadings of foreign hostages.
In August 2014, Obama ordered the first airstrikes against the Islamic State on targets in Syria, though the president pledged to keep combat troops out of the conflict. Several Arab countries joined the airstrikes against the extremist group. "The only language understood by killers like this is the language of force," Obama said in a speech to the United Nations. "So the United States of America will work with a broad coalition to dismantle this network of death."
Efforts to dismantle the Islamic State have continued after Obama's presidency. As recently as April 2023, a top ISIS leader was killed in an airstrike. However, U.S. airstrikes have also been responsible for a large civilian death toll. As of December 2021, more than 1,400 people have died, according to military officials. Outside watchdog organizations, like Airwars, estimate the number of casualties could be as many as several thousand.
Iran Nuclear Deal and Other Foreign Diplomacy
In September 2013, Obama made diplomatic strides with Iran. He spoke with Iranian President Hassan Rouhani on the phone, which marked the first direct contact between the leaders of the two countries in more than 30 years.
This groundbreaking move by Obama was seen by many as a sign of thawing in the relationship between the United States and Iran. "The two of us discussed our ongoing efforts to reach an agreement over Iran's nuclear program," reported Obama at a press conference.
In July 2015, Obama announced that, after lengthy negotiations, the United States and five world powers had reached an agreement with Iran. The deal allowed inspectors entry into Iran to make sure the country kept its pledge to limit its nuclear program and enrich uranium at a much lower level than would be needed for a nuclear weapon. In return, the United States and its partners removed the tough sanctions imposed on Iran and allowed the country to ramp up sales of oil and access frozen bank accounts. That year, Obama also traveled to India and reached a civilian nuclear agreement with Prime Minister Narendra Modi that opened the door to U.S. investment in India's energy industry.
Elsewhere, Obama moved to reestablish diplomatic ties with Cuba in December 2014. He and Cuban President Raul Castro announced the normalizing of diplomatic relations between the countries for the first time since 1961. The policy change came after the exchange of American citizen Alan Gross and another unnamed American intelligence agent for three Cuban spies. However, the long-standing U.S. economic embargo on Cuba, instituted by President John F. Kennedy, remained in effect. On March 20, 2016, Obama became the first sitting American president to visit Cuba since 1928, as part of his larger program to establish greater cooperation between the two countries.
Just prior to the trip, on March 10, 2016, Obama met at the White House with newly elected Canadian Prime Minister Justin Trudeau in the first official visit by a Canadian leader in nearly 20 years.
Obama's Climate Change Policies
In August 2015, the Obama administration announced the Clean Power Plan, a major climate change policy that included the first national standards to limit carbon pollution from coal-burning power plants and called for more renewable energy from sources like wind and solar power. Ultimately, the plan never took effect after facing backlash and lawsuits from business groups, companies, 27 states, and Kentucky Senator Mitch McConnell, who was then the Republican minority leader. In February 2019, the Supreme Court ruled, 5-4, to block the plan by putting a hold on regulations to reduce carbon dioxide emissions, mostly from coal power plants. That June, the Clean Power Plan was replaced by with the Affordable Clean Energy rule.
Obama also worked to respond to climate change on the global level. In November 2015, he was a primary player in the international COP21 summit held outside of Paris that resulted in the Paris Climate Agreement. The agreement requires all participating nations to reduce greenhouse gas emissions in an effort to limit the rise of global temperatures and also to allocate resources for the research and development of alternative energy sources.
Obama pledged that the United States would cut its emissions more than 25 percent by 2030. On October 5, 2016, the United Nations announced the Paris Climate Agreement had been ratified by a sufficient number of countries—including China and the United States, the two largest emitters of greenhouse gases—to allow it to take effect starting on November 4, 2016. But on June 1, 2017, President Donald Trump made good on his campaign promise to withdraw from the Paris Climate Agreement.
Supreme Court Nominees
During his presidency, Obama filled two seats in the Supreme Court: Sonia Sotomayor, who was confirmed in 2009 and is the court's first Hispanic justice, and Elena Kagan, who was confirmed in 2010. Both justices were confirmed under a Democratic-majority Senate.
After the unexpected death of Justice Antonin Scalia in February 2016, Obama once again had an open Supreme Court seat to fill. In March, the president held a press conference at the White House to present 63-year-old U.S. Court of Appeals Chief Judge Merrick Garland as his nominee for replacing the conservative stalwart. Garland was considered a moderate "consensus" candidate.
Garland's nomination was immediately rebuffed by Senate Majority Leader Mitch McConnell and others in the Republican Party. They stated their intention to block any nominee put forward by Obama, fearing that such a confirmation would tip the balance toward a more liberal-leaning court. Garland was never granted a Senate confirmation hearing, and the seat sat empty until April 2017 when Neil Gorsuch, nominated by President Donald Trump, was confirmed.
Last Days in Office and Presidential Legacy
On January 19, 2017, Obama's last full day in office, he announced 330 commutations for nonviolent drug offenders. The presidents granted a total of 1,715 clemencies, including commuting the sentence of Chelsea Manning, the U.S. Army intelligence analyst who was sentenced to 35 years in prison for leaking classified information to WikiLeaks.
Over the course of his administration, Obama led the country away from financial catastrophe as the Great Recession gave away to market stability and a declining unemployment rate. He expanded the country's diplomatic relations, and the Affordable Care Act marked the biggest health care expansion since the creation of Medicare and Medicaid. Although he made inroads on immigration reform through the Deferred Action for Childhood Arrivals (DACA) program, the United States continues to face a broken immigration system.
Obama also struggled to enact the gun control measures he hoped for, such as universal background checks and the resurrection of the federal ban on sales of assault weapons and high-capacity magazines. Some of the mass shootings during his time include at Sandy Hook Elementary School (20 children and six adult fatalities) in Connecticut; an Aurora, Colorado movie theater (12 fatalities); a historically Black church in Charleston, South Carolina (9 fatalities); and a gay nightclub in Orlando, Florida (49 fatalities).
Ever the optimist, Obama shared these parting words at his last press conference with the White House press corps:
"I believe in this country. I believe in the American people. I believe that people are more good than bad. I believe tragic things happen. I think there's evil in the world, but I think at the end of the day, if we work hard and if we're true to those things in us that feel true and feel right, that the world gets a little better each time. That's what this presidency has tried to be about. And I see that in the young people I've worked with. I couldn't be prouder of them."
Notable Speeches
2010 State of the Union
On January 27, 2010, Obama delivered his first State of the Union speech. During his oration, Obama addressed the challenges of the economy, proposed a fee for larger banks, announced a possible freeze on government spending in the following fiscal year, and spoke against the Supreme Court's reversal of a law capping campaign finance spending.
Obama also challenged politicians to stop thinking of reelection and start making positive changes. He criticized Republicans for their refusal to support legislation and chastised Democrats for not pushing hard enough to get legislation passed.
He also insisted that, despite obstacles, he was determined to help American citizens through the nation's current domestic difficulties. "We don't quit. I don't quit," he said. "Let's seize this moment to start anew, to carry the dream forward, and to strengthen our union once more."
2015 State of the Union
In his 2015 State of the Union address, Obama declared that the nation was out of recession. "America, for all that we've endured; for all the grit and hard work required to come back… know this: The shadow of crisis has passed," he said. He went on to share his vision for ways to improve the nation through free community college programs and middle-class tax breaks.
With Democrats outnumbered by Republicans in both the House and the Senate, Obama threatened to use his executive power to prevent any tinkering by the opposition on his existing policies. "We can't put the security of families at risk by taking away their health insurance, or unraveling the new rules on Wall Street, or re-fighting past battles on immigration when we've got to fix a broken system," he said. "And if a bill comes to my desk that tries to do any of these things, I will veto it."
2016 State of the Union
On January 12, 2016, Obama delivered what would be his final State of the Union address. Diverging from the typical policy-prescribing format, Obama's message for the American people was centered around themes of optimism in the face of adversity, asking them not to let fears about security or the future get in the way of building a nation that is "clear-eyed" and "big-hearted."
This did not prevent him from taking thinly disguised jabs at Republican presidential hopefuls for what he characterized as their "cynical" rhetoric, making further allusions to the "rancor and suspicion between the parties" and his failure as president to do more to bridge that gap.
Farewell Address
On January 10, 2017, Obama returned to his adopted home city of Chicago to deliver his farewell address. In his speech, Obama spoke about his early days in the Windy City and his continued faith in the power of Americans who participate in their democracy.
He called on politicians and American citizens to come together despite their differences. "Understand, democracy does not require uniformity," he said. "Our founders quarreled, and compromised, and expected us to do the same. But they knew that democracy does require a basic sense of solidarity—the idea that for all our outward differences, we are all in this together; that we rise or fall as one."
Obama also appealed for tolerance along racial and ethnic lines and curbing discrimination:
"After my election, there was talk of a post-racial America. Such a vision, however well-intended, was never realistic. All of us have more work to do. After all, if every economic issue is framed as a struggle between a hardworking white middle class and undeserving minorities, then workers of all shades will be left fighting for scraps while the wealthy withdraw further into their private enclaves.
"If we decline to invest in the children of immigrants, just because they don't look like us, we diminish the prospects of our own children—because those brown kids will represent a larger share of America's workforce. Going forward, we must uphold laws against discrimination… But laws alone won't be enough. Hearts must change."
He quoted Atticus Finch, the main character in Harper Lee's To Kill a Mockingbird, asking Americans to heed the fictional lawyer's advice: "You never really understand a person until you consider things from his point of view, until you climb into his skin and walk around in it."
Obama concluded his farewell address with a call to action: "My fellow Americans, it has been the honor of my life to serve you," he said. "I won't stop; in fact, I will be right there with you, as a citizen, for all my remaining days. But for now, whether you are young or whether you're young at heart, I do have one final ask of you as your president—the same thing I asked when you took a chance on me eight years ago. I am asking you to believe. Not in my ability to bring about change—but in yours."
Life After the Presidency
After leaving the White House, the Obama family moved to a home in the Kalorama neighborhood of Washington, D.C., to allow younger daughter Sasha to continue school there.
Obama embarked on a three-nation tour in late fall 2017, meeting with such heads of state as President Xi Jinping of China and Prime Minister Narendra Modi of India.
National Portrait Gallery
On February 12, 2018, the Smithsonian's National Portrait Gallery unveiled its official portraits of Barack and Michelle. Both rendered by African American artists, Kehinde Wiley's work featured Barack in a chair surrounded by greenery and symbolic flowers, while Amy Sherald's portrait of the former first lady depicted her in a flowing dress, gazing back at viewers from a sea of blue.
Netflix Content and Podcasts
In May 2018, Barack and Michelle finalized a multi-year deal with Netflix to create exclusive content for the streaming service through their production company, Higher Ground. The fruits of the collaboration first appeared with the August 2019 release of American Factory, an Oscar-winning documentary about the 2015 launch of a Chinese-owned automotive glass factory in Dayton, Ohio, and the clash of differing cultures and business interests.
The Obamas helped produce the 2020 documentary Crip Camp, which was nominated for best documentary feature at the 2021 Academy Awards. Higher Ground's children's series Ada Twist, Scientist and We the People each won awards at the inaugural Children's and Family Emmy Awards in 2022.
Higher Ground has expanded into podcasts, including Renegades: Born in the USA—a series of conversations between Barack and musician Bruce Springsteen about life, music, and their love for America.
Barack Obama Presidential Center
In May 2015, the Barack Obama Foundation announced plans to construct the Barack Obama Presidential Center on the South Side of Chicago. The complex would be home to a Chicago Public Library branch, a museum, as well as office and activity spaces for the foundation.
In July 2016, Jackson Park was selected as the host site. Construction began in August 2021, and a groundbreaking ceremony was held the following month with Barack, Michelle, Illinois Governor J.B. Pritzker, and Chicago Mayor Lori Lightfoot all in attendance.
The project has been the subject of two lawsuits from volunteer nonprofit Protect Our Parks, which claimed the city and state of Illinois violated their public trust obligations to protect pubic land in approving the project. They were dismissed by a federal judge in 2019 and 2022, respectively.
The project is expected to be completed by 2025, according to the Obama Foundation.
Barack Obama Presidential Library
In September 2021, the Barack Obama Presidential Library announced plans to employ a virtual model with records available online, making it the first fully digital presidential library. According to the library, around 95 percent of the Obama administration's Presidential records were born digital, including photos, documents, tweets, and emails.
How Tall is Obama?
According to White House documents, Obama's physician measured him at 6 feet 1.5 inches tall during a 2016 physical exam.
Books and Grammy
Obama published his autobiography, Dreams from My Father: A Story of Race and Inheritance, in 1995. The work received high praise from literary figures such as Toni Morrison. It has since been printed in more than 25 languages, including Chinese, Swedish and Hebrew. The book had a second printing in 2004 and was adapted for a children's version. The audiobook version of Dreams, narrated by Obama, received a Grammy Award for Best Spoken Word album in 2006.
His second book, The Audacity of Hope: Thoughts on Reclaiming the American Dream, was published in October 2006. It hit No. 1 on both the New York Times and Amazon's best-seller lists.
The first volume of Obama's presidential memoirs, A Promised Land, was released in November 2020.
Hobbies
Basketball
Obama is one of the world's most recognizable basketball enthusiasts. He played during his youth and for the junior varsity and varsity teams at the Punahou School, winning a state championship with the team in 1979.
Unsurprisingly, Obama became a fan of the NBA's Chicago Bulls during his time living in Chicago. He appeared in The Last Dance, a 2020 documentary profiling Michael Jordan's career and final championship season with the Bulls in 1997-98.
Obama was known for playing pickup games during his first presidential campaign and throughout his presidency, with opponents including NBA and WNBA players. According to GQ, Obama also had a basketball-themed 49th birthday party and invited stars like LeBron James, Chris Paul, Kobe Bryant, Carmelo Anthony, Magic Johnson, and Bill Russell to play for a group of wounded veterans at Washington's Fort McNair.
Obama also became famous for filling out NCAA men's and women's tournament brackets every year in a segment for ESPN called "Barack-etology." He correctly picked the men's March Madness champion only once during his presidency: the University of North Carolina Tarheels in 2009.
In 2021, Obama joined NBA Africa as a strategic partner to help promote the league's community efforts throughout the continent.

Other Hobbies
Obama has said he grew up a huge comic book fan and was particularly fond of Spider-Man and Conan the Barbarian. He also told students at a 2015 virtual field trip that some of his favorite books included The Hardy Boys, Treasure Island, The Hobbit, and The Lord of the Rings.
As for movies and TV, Obama has cited the first two Godfather movies as his top films, and classics like Casablanca (1942), Lawrence of Arabia (1962), and One Flew Over the Cuckoo's Nest (1975) among his favorites. Obama is a fan of the HBO drama The Wire, as well as Mad Men, Entourage, Downton Abbey, House of Cards, and The Knick. According to a 2013 article, he is also a Star Trek fan and enjoyed watching live sports at the White House and aboard Air Force One. In addition to the NBA's Bulls, Obama is also a fan of Chicago's MLB team the White Sox.
In terms of music, Obama told Rolling Stone in 2008 he had "probably 30" Bob Dylan songs on his iPod. He also said he listens to The Grateful Dead; Earth, Wind and Fire; Elton John; and The Rolling Stones. However, his favorite artist of all-time is Stevie Wonder.
Obama isn't totally old school; he follows contemporary media and releases a yearly list of his favorite books music and television from the prior 12 months.
Movies About Obama
Barack and Michelle's first date in Chicago was the focus of the 2016 romantic drama film Southside With You; Parker Sawyer played Barack.
That same year, Netflix released the film Barry about Obama's time at Columbia University.
In August 2021, HBO released the documentary series Obama: In Pursuit of a More Perfect Union in conjunction with the former president's 60th birthday.
Quotes
Our challenges may be new, the instruments with which we meet them may be new, but those values upon which our success depends, honesty and hard work, courage and fair play, tolerance and curiosity, loyalty and patriotism—these things are old.
We, the People, recognize that we have responsibilities as well as rights; that our destinies are bound together; that a freedom which only asks what's in it for me, a freedom without a commitment to others, a freedom without love or charity or duty or patriotism, is unworthy of our founding ideals, and those who died in their defense.
Our government should work for us, not against us. It should help us, not hurt us. It should ensure opportunity not just for those with the most money and influence, but for every American who's willing to work.
No single individual built America on their own. We built it together. We have been, and always will be, one nation, under God, indivisible, with liberty and justice for all; a nation with responsibilities to ourselves and with responsibilities to one another.
We are a nation that endures because of the courage of those who defend it.
I am not opposed to all wars. I'm opposed to dumb wars.

So don't let anyone tell you that change is not possible. Don't let them tell you that standing out and speaking up about injustice is too risky. What's too risky is keeping quiet. What's too risky is looking the other way.
Our journey is not complete until our gay brothers and sisters are treated like anyone else under the law—for if we are truly created equal, then surely the love we commit to one another must be equal as well.
I have always believed that hope is that stubborn thing inside us that insists, despite all the evidence to the contrary, that something better awaits us so long as we have the courage to keep reaching, to keep working, to keep fighting.
It is easier to start wars than to end them.
We don't quit. I don't quit. Let's seize this moment to start anew, to carry the dream forward, and strengthen our union once more.
It's only when you hitch your wagon to something larger than yourself that you will realize your true potential.
What Washington needs is adult supervision.
When Trayvon Martin was first shot, I said that this could have been my son. Another way of saying that is Trayvon Martin could have been me 35 years ago.

You've shown us, Boston, that in the face of evil, Americans will lift up what's good. In the face of cruelty, we will choose compassion.

If you're walking down the right path and you're willing to keep walking, eventually you'll make progress.
My job is not to represent Washington to you, but to represent you to Washington.
Change will not come if we wait for some other person or some other time. We are the ones we've been waiting for. We are the change that we seek.
Hope—hope in the face of difficulty. Hope in the face of uncertainty. The audacity of hope! In the end, that is God's greatest gift to us, the bedrock of this nation.
If we aren't willing to pay a price for our values, then we should ask ourselves whether we truly believe in them at all.
Yes, we can. Yes, we can change. Yes, we can.
And where we are met with cynicism and doubt and fear… we will respond with that timeless creed that sums up the spirit of the American people in three simple words—yes, we can.
Fact Check: We strive for accuracy and fairness. If you see something that doesn't look right, contact us!
Associate News Editor, Biography.com
Tyler Piccotti joined the Biography.com staff in 2023, and before that had worked almost eight years as a newspaper reporter and copy editor. He is a graduate of Syracuse University, an avid sports fan, a frequent moviegoer, and trivia buff.

Staff Editorial Team and Contributors
The Biography.com staff is a team of people-obsessed and news-hungry editors with decades of collective experience. We have worked as daily newspaper reporters, major national magazine editors, and as editors-in-chief of regional media publications. Among our ranks are book authors and award-winning journalists. Our staff also works with freelance writers, researchers, and other contributors to produce the smart, compelling profiles and articles you see on our site. To meet the team, visit our About Us page: https://www.biography.com/about/a43602329/about-us
In conclusion, Barack Obama has undoubtedly left a lasting impact on both the domestic and international stage. From his historic election as the first African-American President of the United States to his efforts in healthcare reform, climate change, and foreign diplomacy, Obama's presidency represented an era of hope, progress, and inclusivity. While his policies were met with both praise and criticism, he consistently sought to bridge gaps and bring people together, embodying the mantra of "Yes We Can." Obama's charm, rhetorical skills, and commitment to social justice have cemented his status as one of the most influential leaders of our time. His legacy will continue to shape American politics and inspire a new generation of leaders to follow in his footsteps.
Thank you for reading this post Barack Obama at daotaomt.edu.vn You can comment, see more related articles below and hope to help you with interesting information.
Related Search:
1. "Barack Obama biography"
2. "Barack Obama presidency"
3. "Barack Obama achievements"
4. "Barack Obama family"
5. "Barack Obama political career"
6. "Barack Obama speeches"
7. "Barack Obama net worth"
8. "Barack Obama legacy"
9. "Barack Obama book"
10. "Barack Obama quotes"